Custom Made Roller Blinds Adelaide
Create a gorgeous new look with our fantastic range of made to measure roller blinds.  In Style blinds have a superior range of high quality, custom made roller blinds that offer the perfect blend of style and durability.
Roller blinds are so sleek and versatile that they are perfect for modern or classical interiors and will help to renew and refresh any room.  With hundreds of colours to choose from and plenty of prints and designs, you are sure to find something to enhance and coordinate with your décor.  
Roller blinds are ideal for all types of windows and doors.  They are highly versatile and come in a range of fabrics that will enhance privacy, filter light, darken rooms or create a stunning style statement in a room. 
Blockout Roller Blinds
Our block out fabrics are ideal to block out light to create a really dark room throughout the day or night.  If you are a shift worker, who needs to sleep during the day, block out blinds dramatically reduce the light in a room, creating an environment perfectly suited to daytime rest.  And our block out blinds are ideal for the kid's bedrooms too. They darken their rooms on summer evenings and prevent the early morning sun flooding into the room to give the best opportunity for a long sleep.
Sheer Roller Blinds
Our superb range of sheer fabric roller blinds are the perfect solution for open living areas, kitchens and bathrooms.  Sheer roller blinds use beautiful fabrics which create privacy from the outside but maintain your views from the inside.  They are superb for diffusing and filtering the harsh afternoon sunlight to create a beautiful natural light in the room.
Day Night Roller Blinds (Combo Rollers)
Day night Roller blinds also known as combo roller blinds, are the perfect solution for rooms that need a combination of privacy and room darkening at different times during the day.  These blinds are highly innovative and combine two blinds – a sheer roller blind and a block out roller blind on one bracket, to give you total control of light and privacy.
We like to make choosing your blinds stress-free and easy so for your convenience we will bring the showroom to you.  Our friendly consultants will be happy to advise you on the best blinds and fabrics to use to create a stunning new look while offering the maximum benefits to your heating and cooling costs.  You can just relax while we take care of everything.  You can touch and feel fantastic fabrics, browse through our vast selection of plain, patterned and textured fabrics and see how they match up with your existing colour scheme.
Moving to a new home? we are happy to price off plan and have your new window coverings in place as soon as you have access to your new home.  For your convenience we offer manual or motorised controls and all blinds will be fitted with child safe fixings.
In style blinds pride themselves on offering quality products, superb customer service and great value.  Our highly experienced team, expert advice and superior installations are all part of our personalised service, so you can rest assured you will always get the very best from In Style blinds.
Custom Made Roman Blinds Adelaide
Make a real style statement in your home with our fabulous range of roman blinds.  Whatever your décor we can help you create a stunning new look to refresh and update your living space.  We have a range of beautiful fabrics that come in an array of textures, colours and prints that will enhance any classic or contemporary home. 
With our stylish and highly functional roman blinds, we can create the perfect solution for you.  If you work shifts or have young children who sleep during the day we have a wonderful collection of block out (room darkening) fabrics to ensure you can create the perfect ambience for sleep.  Where privacy and light are required, take a look at our extensive range of sheer fabrics and if you want to match your blinds in with your curtains we can even use your own fabric and add a special lining to it so we can create the perfect roman blinds to complement the rest of your decor.  
Huge choice of Roman Blinds
At In Style blinds we aim to delight our customers and pride ourselves on offering a huge choice of fabrics, textures and colours along with a range of designs to enhance any interior. Your roman blinds can be made to your exacting style requirements we offer the choice of a stylish base rail, hem or custom trim and manual or motorised operation.
Motorised or Manual Roman Blinds
You can choose how you like to activate your blinds with the choice of a motorised or manual operating system.  Our motorised system is one of the best and quietest on the market.  Alternatively, you can choose from our standard roller chain winder or a more traditional locking pulley system which comes with a cleat hook.
Child safety is at the forefront of our mind and all roller chain operated blinds will be installed with a child safety wall fixing, and any cleat hooks will be installed at the height of 1.6m to comply with child safety regulations.
Roman blind base rails, hems and trims
To customise your roman blind, you can choose to finish your blind with a base rail, sewn hems or a custom trim.   Our Selection of base rails (round, oval or rectangular) create a sleek finish with beautiful, clean lines at home in modern and contemporary interiors.  If you are looking for something more classical, then you can choose from our wide range of curved and scalloped edge trims or even a custom swag.
Personalised Customer Service
Our friendly in-home consultants will bring the showroom to you and give you all the ideas and inspiration that you are looking for and you will be spoilt for choice.  They can advise on the best colours and styles to match your decors and you can touch and feel our luxurious fabrics.  We will turn up on time and take care of every little detail, from measuring up for your blinds right through to perfectly installing them and never pressure you into making a decision.  We pride ourselves on offering a personalised service, an excellent customer experience and we bring you the best quality products and great value for money.
Custom Made Vertical Blinds Adelaide
Create an idyllic atmosphere at your windows with our fantastic range of versatile made to measure Vertical Blinds.  Vertical blinds also known as louvre drapes and vertical drapes are a highly versatile blind that offers the ultimate in light and privacy control.  They can be opened or closed and then tilted at any angle to perfectly filter the light to create ambience, privacy and style in any room.
Vertical blinds are highly versatile and are a popular choice of blinds for sliding doors and larger windows.  Our fabric blades come in three different widths to create the ideal fit for large or small window reveals.  Made from quality precision engineered thermoplastic for a super-smooth quiet operation our Vertical Blinds are simple and easy to use and come with the choice wand, cord or chain operation.  Wand operated vertical blinds offer clean styling (with no cords or chains) and are a popular choice as one wand controls everything.  Simply pull the wand to open and close the blind and you will feel the super smooth gliding action, and then twist the wand to select the desired fabric angle.  You get to choose if you want the blinds to draw to the left or right or you can have split stacking blinds that draw to either side just like your curtains.  We can even customise the length of the operating wand so it's easy and comfortable to use.  Our wands also come in a choice of white or chrome colour options.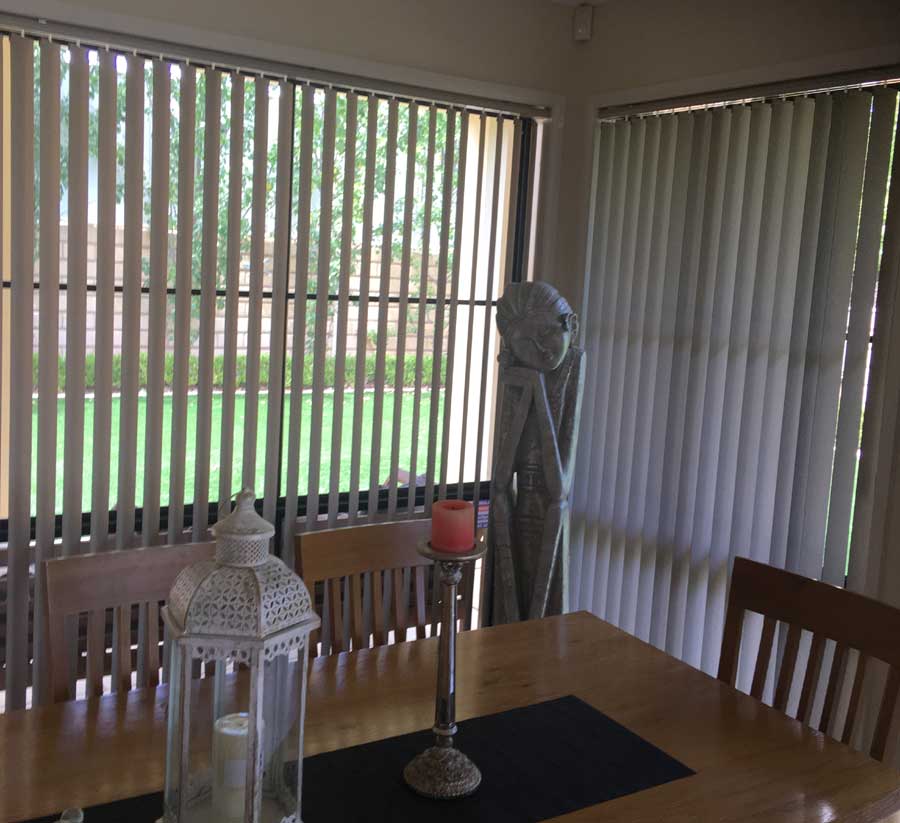 Our friendly and experienced in home consultants can take care of everything, we offer free in-home consultations, so we can bring the range to you in the comfort of your own home.  We will come to you and take your exact measurements so when we return to install your blinds, you can be guaranteed the perfect fit.  Our expert consultants have a keen eye for design and help you select colours and fabrics that will enhance your home and create your perfect look.  You can choose from a huge selection of fabrics from plain, textured, patterned, thermal and block out (room darkening) so classic, modern, bold or sophisticated we have all decors covered. You can even touch and feel all of the different fabrics and hold them up to your furniture and walls to gain a full appreciation of how they can complement and refresh your interior.
We have built our trusted brand reputation by offering unparalleled customer service, we only use quality Australian products and we offer great value on the best brands.   We stand by our service and quality with a 5-year all-inclusive warranty covering parts, labour and installation.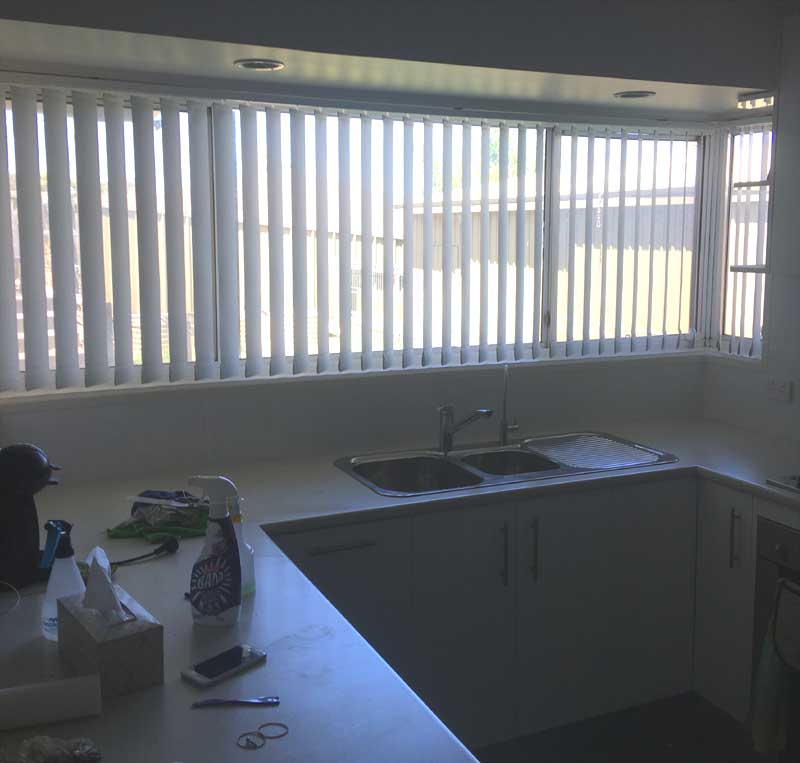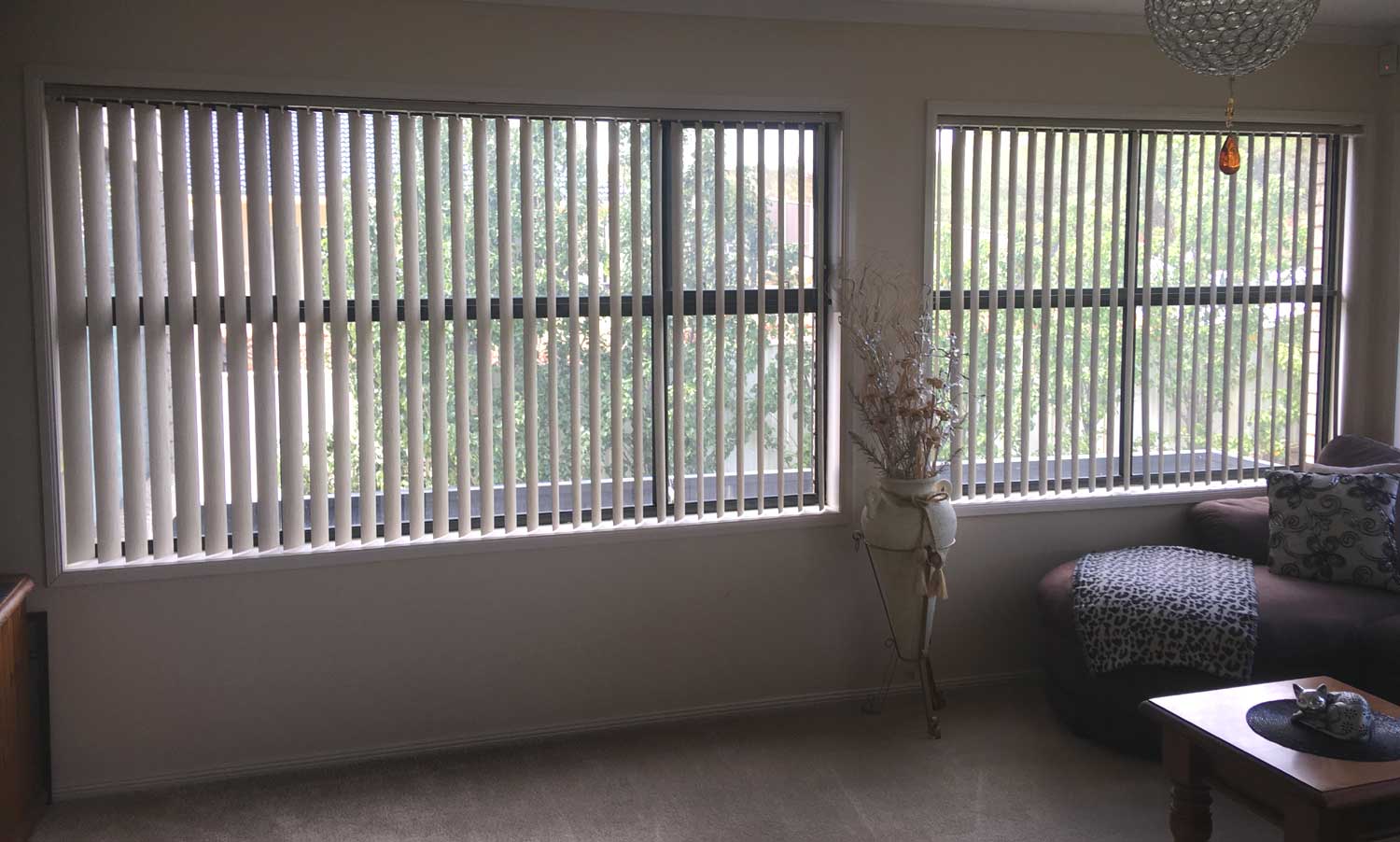 Custom Made Venetian Blinds Adelaide
With their clean, minimalist lines and versatility, our custom-made venetian blinds offer a timeless style that's at home in any interior.  With the ideal balance of light and privacy control, you can create the perfect ambience for any room with venetian blinds.
You can choose from a huge range of made to measure venetian blinds that cover any budget.  We have a great range of beautiful aluminium venetians to bring a little bling to your interior or for a warm and natural feel, add a touch of sophistication with our extensive range of timber finished venetian blinds.  There are endless colours to choose from and we offer different slat widths from slimline 25mm – wide profile 63mm to create the perfect look to suit your home.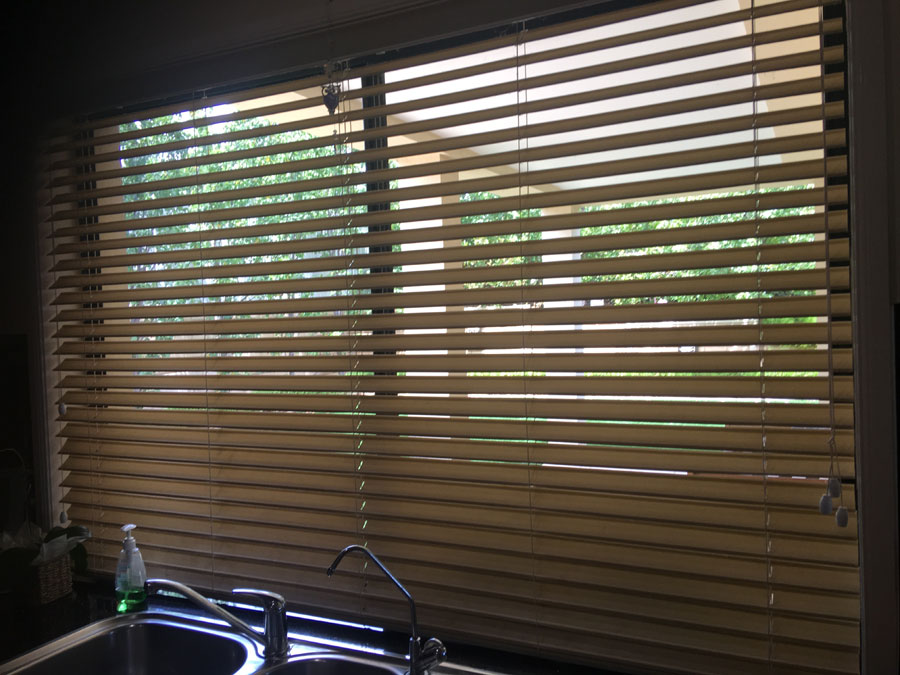 Aluminium Venetian Blinds Adelaide
Our aluminium venetian blinds are a highly cost-effective way to cover multiple windows in your home and offer the perfect combination of style and versatility.  Your aluminium blinds can be open or closed and have 180o tilt action, giving you full control over light filtering and privacy to create the perfect mood in your room.  They come in a choice of widths from 16mm, 25mm and 50mm and have a unique curved headrail for a sleek and contemporary feel.  They are great at any window and can even be used in kitchens and bathrooms.  We use the highest quality aluminium, so your venetian blinds will not rust or discolour and with 25 colours to choose from, you are sure to find a perfect finish for your interior.
Luxury Wood look Venetian Blinds
Our luxury wooden look venetians come in 50mm, and 63mm wide slat widths to create a solid, warm and natural look and feel.  Just like laminate floors they have been designed to capture the character, grain and feel of wood but without the high cost.  They have thicker slats than most wooden blinds which provide added thermal insulation, and they are finished with a tough UV resistant coating for maximum longevity and scuff resistance.  Our timber look blinds will not warp, twist or fade.
Our wooden look venetian blinds come in the choice of five different colours, from dark to light so you can easily create the look that you desire.   They also come with a matching valance and bottom rail to create the perfect finish.  Every component has been built with quality, durability and ease of use in mind and to make a real statement in your room we can cover a window as large as 10 square meters with just one blind!
Our Tuscany range of large profile blinds come in 50mm and 63mm slat widths and are offered in a stunning range of neutral colours and light pastels.  With such a wide profile and thick slats, they can look very similar to a plantation shutter but come at a fraction of the cost.
Easy and Convenient Venetian Blinds Adelaide
We have been installing blinds in homes all over Adelaide for many years and have a reputation for offering a full personalised service, superior advice and excellent quality products.  For the ultimate in ease and convenience, we will bring the showroom to you for a free, no obligation in-home consultation.  You can touch and feel our product samples, see your choice of colours and we will provide all of the inspiration and advice you need.  Our friendly consultants will measure your windows, custom-make and install your blinds to ensure that we create the perfect window dressing for you.