Café/ Alfresco Blinds Adelaide
Café Blinds and Alfresco Blinds Adelaide
There is nothing like relaxing or entertaining family and friends outdoors!  Our fantastic range of custom-made, outdoor blinds allow you to entertain in style and comfort without having to second-guess the Adelaide Weather.
Outdoor alfresco blinds also known as café blinds, pergola blinds, veranda blinds or bistro blinds are a great way to define and enclose your outdoor areas while protecting you from the elements.  They are a great investment in your home and enable you to get year-round use of your outdoor areas, without compromising your view.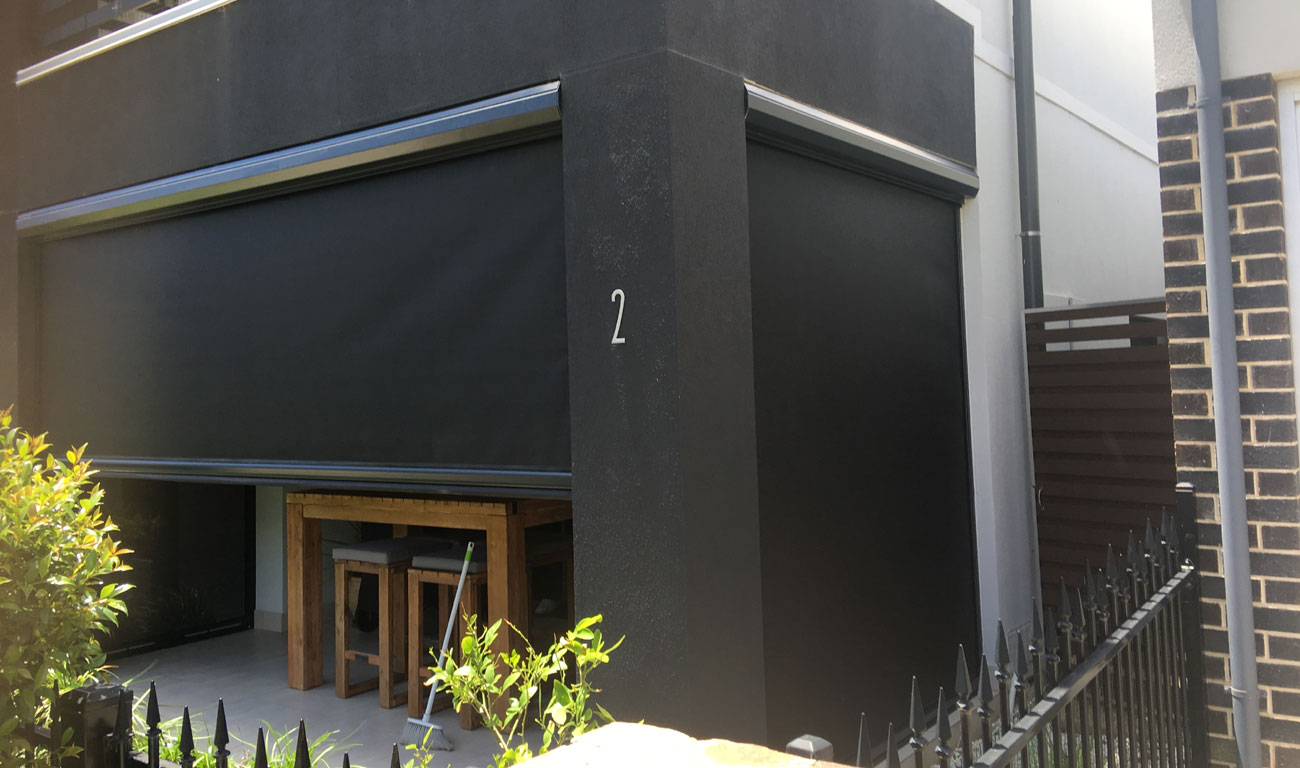 PVC and Mesh Outdoor Blinds
There are two main types of custom-made outdoor blinds to choose from – Mesh blinds and PVC blinds.
PVC blinds are ideal to completely enclose your area and provide a physical barrier to keep the wind, rain and insects out.  They create the ideal year-round space, and on cooler evenings they will help to keep you nice and snug.  To enhance your privacy, you can choose from clear PVC or tinted PVC.
Mesh blinds are a fantastic choice to enjoy your outdoor areas, they provide superb protection from the wind, rain and insects, but also allow the air to circulate so you can enjoy a cool breeze amidst the harsh afternoon sun.  Our mesh blinds come with varying degrees of visibility for your privacy, and the tighter the weave, the higher the shade protection and privacy level.  We offer a selection of mesh fabrics from highly transparent to opaque, and our blinds come in a range of colours so you can choose a colour to compliment your exterior.
Easy to Operate Premium Trackguided Alfresco Blinds
Our most popular outdoor blinds are spring-loaded track guided blinds which offer the ultimate in ease of operation.  Being spring loaded you simply pull the blind up, down or anywhere in-between and as the sides are enclosed in a vertical channel it enables the blinds to glide smoothly into place while preventing sideways movement or any noisy flapping in the wind.  With no cranks, pulleys or straps they have beautiful, clean lines and for the ultimate in convenience, you can choose from manual operation or fully automated with a push button or remote-control operation. 
In Style Blinds have all your exterior blinds needs covered and no matter if your space is large or small, there has never been a blind that we could not fit.  Our experienced technicians will bring the showroom to you, talk you through the fabric and choice of controls and can even help you select the best colours to match and enhance your exterior colour scheme.  Our carefully selected and highly trained installers have a full builders' license and police clearance, so you can be assured that a true and trusted professional is on the job. 
Whatever your budget we have a range of stylish outdoor blinds to suit you.  From quality crank operated outdoor blinds to premium track guided blinds, In Style Blinds offer the range, advice and service to delight.   For your peace of mind, all our outdoor blinds are backed by a full five years warranty which covers parts, labour and installation.
Awning Blinds Adelaide
In Style Blinds have been fitting custom-made drop arm awnings to windows and sliding doors all over Adelaide for over ten years.  Drop arm awnings also known as awning blinds, drop-down awnings or auto glide awnings are a fantastic way to reduce the heat build-up through the windows as well as creating privacy and shade.
They are ideal for windows, patio doors or balconies that really catch the sun.  Awning blinds extend vertically down the window, door or patio to provide full protection from the harsh Adelaide sun.  They come with a choice of three different arm projections – 150mm, 300mm or 450mm to suit your preference.  Your awning can be fully drawn to provide maximum shade and offer vital UV protection to prevent carpets and furniture from fading. 
In Style Blind's drop arm awnings are spring loaded for simple and easy operation.  Simply slide the awning along the guide rods to raise or lower to the desired position.
High-Quality
Technical Awning Fabrics
Drop arm awnings are a cost-effective alternative to roller shutters, and the latest research has shown that it can be as much as twenty degrees cooler underneath an awning.   Awning blinds can deflect up to 70% of the heat before it even reaches the window, illustrating how effective they are at keeping your home cool and comfortable not to mention the huge savings that can be made on heating and cooling costs.
We are proud to be an Australian business supporting Aussie made products and all of our awnings are manufactured here in Adelaide.  They come with the choice of canvas fabrics or sunscreen woven fabrics.  Sunscreen woven fabrics provide full shade protection without blocking your views.  We have a huge range of fabrics to choose from and only use the best Australian fabric brands such as Vision Tex and Ricky Richards who produce high quality, durable, technical fabrics built to withstand the Australian climate. They offer a range of 'on trend' fabrics in a host of contemporary and classic colours and designs.
Let our friendly and experienced in-home consultants bring the showroom to you and give you the benefit of their experience, advice and expertise.  They will professionally measure, custom make and install your awning blinds to ensure the perfect fit.   For your peace of mind, our awning blinds are backed by a full 3-year guarantee that covers parts, labour and installation and you will be surprised at the great value and exceptional service we offer.